Matěj Bernát stanovuje nový rekord na legendárním přechodu Vysokých Tater

Nonstop přechod Vlada ,,Gipsy Tatarky - to je kultovní přechod Vysokých Tater. Matěj Bernát - náš ambasador tento těžký a krásný přechod uskutečnil a to dokonce v rekordním čase. Toto skvělé ,,dílo" jedné z nejvýznamnějších osobností Vysokých Tater má dech beroucí parametry: 55 km a 6000+ vm a to v celkovém čase 16 hod. 25 min! Opuštěné doliny, málo známá sedla a lyžování žlabů se sklonem přes 40°. Sám. Bez supportu a přípravy materiálu na trase.
Nonstop přechod Vlada ,,Gipsy" Tatarky.
Vlado Tatarka, horolezec, skialpinista jedna z nejvýraznějších osob Vysokých Tater.
26-28.4.1986 tvoří umělecké dílo. Okruh přes odlehlé doliny a netypická sedla. Skrz žlaby o sklonu 40° a více. V Tatrách strávil celý život a na ideální podmínky čekal několik let.
Přechod mu trval 3 dny.
"Ozajstná výzva by bola spraviť to nonstop!"
Úspěšná opakování Gipsyho přechodu :
2012 - Michal Malák a Miro Leitner - čas: 2 dny.
2017 - Martin "Elko" Eliáš - čas: 3 dny, Fotografiemi a popisem svého přechodu otevírá cestu ostatním.
2017 - Karel Svoboda a Simon Kolaja - čas: 2 dny, Kámoši z Česka. Při prvním pokusu bojují ve Spádovédolince a Karel ztrácí lyži. Vše klaplo na 2. pokus.
2019 - Jano Jurga - čas: 3 dny.
2020 - Gabriel Šlárko - čas 20 hod, Nonstop. Gabo tímto počinem vyřešil ,,úplně všechno" dal to v kuse, dal to pod 24 hodin, myšlenku autora dovedl k absolutnu! Pro mne jeden z největších skialpových výkonůvůbec.
2021 - Ivan Pôbiš - 2 dny
Základní informace a fakta:
Start: 25.3.2022. 23:03 Teryho chata - konec 26.3.2022. 15:27 Teryho chata. Celkový čas : 16 hod. 25 min.,
55 km, 6000 výškových metrů, 23 sedel.
Rekord posunut o 3 hod a 45 min.
Šel jsem bez supportu a přípravy materiálu na trase. Ve Vyšné Kamzačí štrbině jsem byl poprvé. *(Obtížnost Gipsyho přechodu netkví ani tak v parametrech, jako v technické náročnosti)
Harmonogram:
• Teryho chata - 00:00
• Žlutá lávka - 00:35
• Studené sedlo - 01:56
• Zadná Gerlachovská lávka - 02:55 • Batizovké sedlo - 03:07
• Sedlo pod Drůkem - 03:34
• Strážné sedlo - 03:47
• Dračie sedlo - 04:16
• Dračia branka - 04:48
• Volovcové sedlo - 05:39
• Temnosmrečinské sedlo - 06:21
• Chalubinského vrata - 06:58
• Vyšná Kamzíčia štrbina - 09:06
• Sedlo nad Zeleným - 11:09
• Čierné sedlo - 13:45
• Bachledova štrbina - 16:10
• Teryho chata - 16:25
Nechat se ideou Gipsyho přechodu pohltit !!!
Začal jsem žít sen o nonstop putování přes Vysoké Tatry. Absolutně přenastavil uvažování ! Konečně si uvědomil důležitost přítomném okamžku.
Podstata zenu spočívá v tom, že žijete v přítomném okamžiku, tak vědomě a soustředěně, že ve vás nemůže přežít nic, čím bytostně nejste - Eckart Tolle.
Starosti tak lidské, tak pozemské, ty u mne byly hybnou silou ke změně.
Utrpení je všudypřítomné, jeho příčinou je touha zaměřená špatným směrem, nápravou je odstranění příčiny a sebezdokonalování vede k ukončení utrpení - Buddha.
Gipsy mne v myšlenkách odnášel správným směrem.
Je 23:03, startuji z Teryho chaty.
Hory jsou někde na půli cesty do ráje - Viktor Beránek
S citátem od Viktora a svitu hvězd... Vstříc noci v milovaných Tatrách...
Traverzuji od chaty a stoupám do Žluté lávky. Pár ,,cikcaků" na lyžích, od poloviny mačky, cepín a na pěšo. Stopa je šláplá, jde se lehce. Už tady se v hlavě zapíná reprák a hraje song !! Nic hlubokého a přesto nebo právě proto bude hrát celou dobu...
With your feet in the air and your head on the ground Try this trick and spin it, yeah
Your head will collapse
But there's nothing in it
And you'll ask yourself
Where is my mind?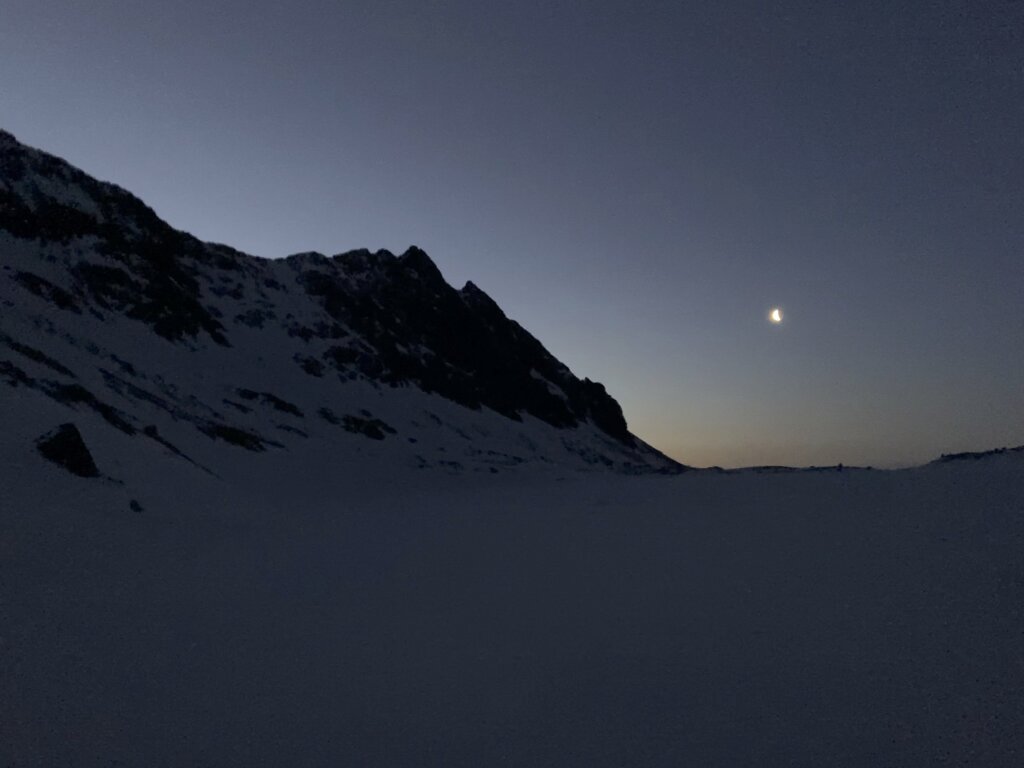 Ze Žluté lávky pokračuji krátkým traverzem do žlabu z Drobné věže. Sjezd, mírně nastoupat a pokračovat dolů směr Zbojnická chata.
Začínám si dobře uvědomovat, proč si Gabo hlídal i svit měsíce. Při mém pokusu je v dolině černočerná tma a měsíc vychází kolem čtvrté ranní. Bez světla měsíce nedokáží přesně odhadnout kolik nastoupat, nedokáží sjíždět větší rychlostí. Nemám dobrou orientaci v dolině. Tady stoupám zbytečně moc... Sjíždím k Sivým plesům, traverzuji pod Javorovými štíty, nasazuji pásy a motám se Velkou Studenou dolinou. Chybí to osvětlení...
Do Studeného sedla je to boj, bořím se místy po kolena, o šetření sil nemůže být řeč. Jestli bude ve všech žlabech stejná podmínka stočím to k Popradskému, na raňajky!! :))))
V sedle dost fouká. Rychle nasazuji lyže a sjíždím. Nevím, jestli proti minulému týdnu ubylo tolik sněhu nebo netrefuji ideální stopu. Asi oboje :) V jednom místě musím přejít kamenné suťoviště na botech. Pokračuji ve sjezdu pod Gerlach.
Nasazuji pásy. Tady jsou podmínky skvělé, lyže drží a já rychle nabírám výškové metry. Věřím, že i pod správný žlab. Mačky a valím směr Gerlachovské lávky. Tento úsek jsem šel poprvé před týdnem, až do té doby jsem si nedokázal představit, jít tudy v noci. Vše se mění, mysl se vyvijí...
Ve žlabu je podmínka lepší než do Smutného sedla. Bořím se méně.
Traverz Komarnických roklin sbíham s cepíny, na mačkách. Jde to rychle. Za chvíli jsem ve Východném Batizovském sedle.
Krapet tu chybí sníh pro sjezd... Sbíham pár metrů, abych nasadil lyže a jedu směr Pasternáková priehyba. Dále směr sedlo pod Drůkem.
Do sedla je stopa ! YEEESSSS !!! Letím vzhůru !
V jednu chvíly se otáčím a vidím 2 čelovky v Batizovské próbě. Jsou 2 hodiny ráno, to není úplně obvyklý čas sestupu z Gerlachovského štítu?! Co se tam asi odehrává za příběh... Pohybují se..., tak mne to nechává klidným... Buším dále do sedla. Song v hlavě je jedna z mála jistot temné noci v Gipsyho stopách.
Where is my mind?
Mám za sebou přes 3 hodiny tmou. Je těžší a těžší držet 100% koncentraci.
Lyže nasazuji nahoře v sedle, sněhu je dostatek. Hned se pouštím skákaným obloukem dolů, trochu se nechám unést v myšlenkách ... Chytám zmrzlou hroudu o vnitřní hranu lyže, přetáčí mne zády do doliny.. Ustojím to, ale absolutně nevím jak... celkem štěstí nebo mne někdo se shora musel jistit ?! Díky Simi. Zastavuji vydýchám se. Musím to uklidnit.
Po chvíli pokračuji ve sjezdu znovu se absolutně koncentruji na přítomný okamžik. Jediná správná cesta k minimalizaci rizik.
Traverzuji pod Východnou Železnou bránu. V hlavě mám vzpomínky, jak jsme tu šli s otcem náš první větší skialpový přechod. Díky táto, díky za lásku k horám, díky za vše.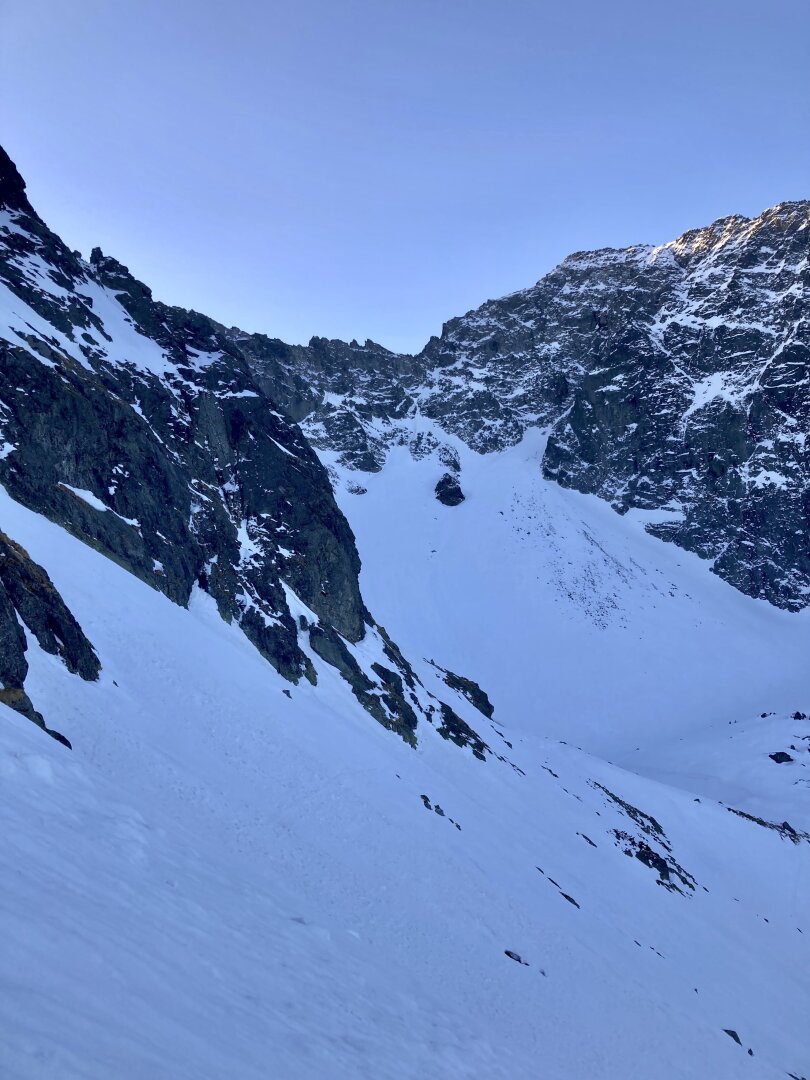 Stoupám do Strážného sedla. Vím, že tady se Gabo dost trápil. Já mám podmínky skvělé.
Sjezd do Rumanové dolinky je beton, takže rychlý. Traverzuji do Dračie dolinky a stoupám do Dračího sedla. Je něco po 3 hodině ranní, pozoruji světýlka měst v údolí, tak blízko a přitom tak daleko. Daleko od vnímání přítomnosti tady a tam dole.
Do Dračího sedla vyjdu na pásech, podmínky gut.
Sjezd pod Dračí branku. Pořád absolutní tma. Vidím stopy. Sundávám lyže, dávám mačky. Paráda! Stopa do Dračí branky. Po pár výškových metrech si říkám: není to nějaký širší ten žlab ? Jsem ve špatném žlabu!?! No jasný ... Sbíhám dolu a traverzuji pod Dračí branku :)
Do Dračí branky je lano kompletně pod sněhem, otázkou jeho kvality a využití se tedy zaobírat nemusím. Live simply. :) Dostávám se tam bez větších problému, dolů slézám na mačkách. Sbíhám až k řetězům vedoucí na chatu pod Rysmi a pod ně vím, že tu bývá málo sněhu.
Pod řetězy nasazuji lyže a traverzuji.
Je pořád tma a ve Volovcovém sedle jsem byl pouze jednou v létě. Trasu volím na slepo ... Světlo by bodlo. V sedle jsem před pátou ranní. Tady konečně začíná svítat. Krása a radost z něčeho tak samozřejmého... Obzory se rozšíří z velikosti kužele čelovky po nekonečno...
Daří se mí sjet na lyžích až k Hincovým plesům.
Do Temnosmrečinského sedla to šlape krásně. Podmínky dobré, v hlavě otázka: co mě čeká na druhé straně do Piargovej doliny ? V batohu mám jedno 50 m lano, dolů chci, ale slézat.
V sedle se okamžitě dívám přes hranu, slezu to bez slanění ! Nastavuji hlavu, znám tyto situace z Alpských 4000, kdy často lano nemám vůbec a jiná možnost není. Vybaví se mi vzpomínky na traverz Obergabelhorn- Zinalrothorn. Stav absolutní koncentrace, vnímání sebe sama v prostoru a jistoty svých rozhodnutí. STAV PŘÍTOMNOSTI...
Nejtěžší horní úsek mám za sebou, dále sestupuji systémem polic. Sníh stojí za ... není nosný cepíny nedrží...
Konečně se, ale dostávám do místa, kde mohu nasadit lyže, úleva, radost. Pouštím to svahem do Piargovej!! Bezpečný terén. rock'n'roll !!! Užívám si sjezd a polevuji v soustředění, ale zhruba 50 metrů rotačních pohybu po svahu mne rychle vrací do reality :)
With your feet in the air and your head on the ground Try this trick and spin it, yeah
Your head will collapse
And there's nothing in it
And you'll ask yourself
Where is my mind?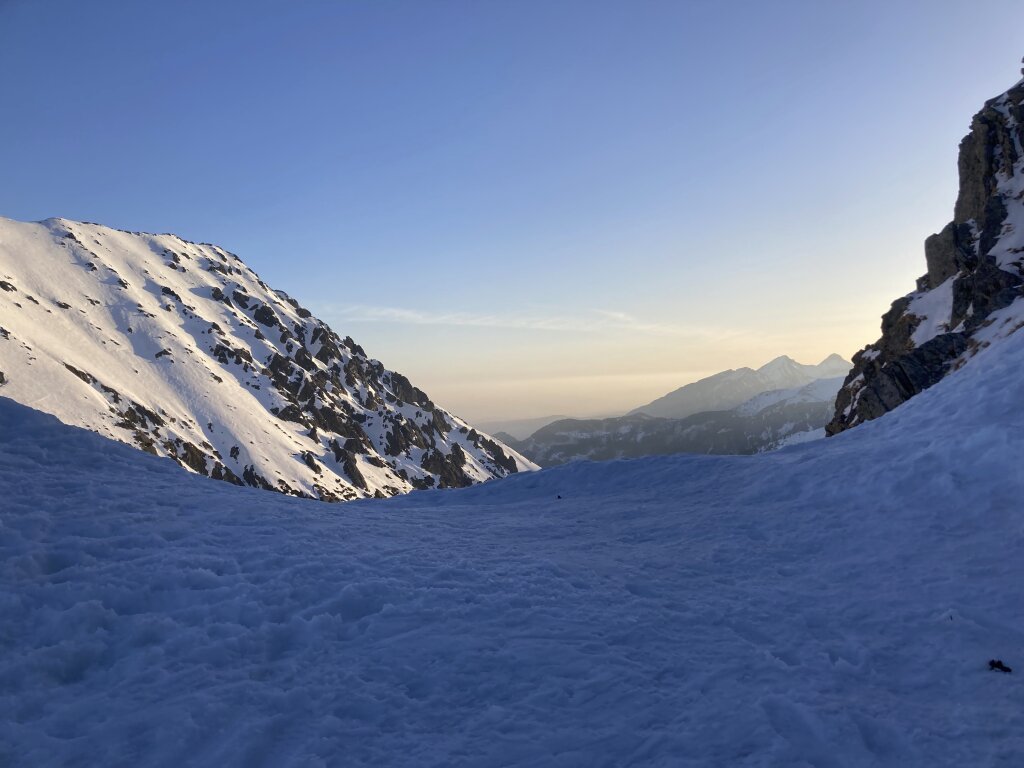 Do Chalubinského vrat pak již vše bez problémů. Z Temnosmrečinského sedla za 37 min. Sjezd k Morskému oku je očistec. Rozježděný a zmrzlý. Možná mě jen slábnou nohy :)
Nad okem dávám snídani. Sýr, oříšky, sýr a 6:20 jdu směr Černý stav pod Rysmi. Jdu skrz pleso, moc se nedívám, co mám pod lyžemi. Upřeně sleduji výstup do Vyšnej Kamzíčej štrbiny. Klíčové místo celého přechodu a ty si tu nikdy nebyl ?! No dobré...
Docházím pod nástup, nasazuji mačky, těším se!!! Sníh na dolní polici se boří po pás . Už nevím proč jsem se těšil ...
Utíkam do trav. Ale ty po chvíli končí a je třeba si přiznat, že to bude dřina.
Do Vyšnej Kamzíčej štrbiny přicházím rozbitý jak cikánské hračky", ale tak nepřijel jsem se do Tater opalovat že ?!
Sjezd do Spádové dolinky je luxus jsem tady 8:15. Jarní firn a pevný podklad, pár krátkých oblouků ze sedla a několik dlouhých v dolině. Je krásně na světě. Přes ledopád prokličkuji bez sebemenších problému. PECKA, MÁM RADOST ! V hlavě běží vzpomínky Elka, Simona s Karlem a Gaba, kteří tu dost bojovali...
Nejlepší lyžovačka dne ve Spádové ??? :)))). Klíčem je samozřejmě podmínka a zejména čas. Projíždět tady o 3 hodiny později, měl bych asi pořádně sevřené půlky.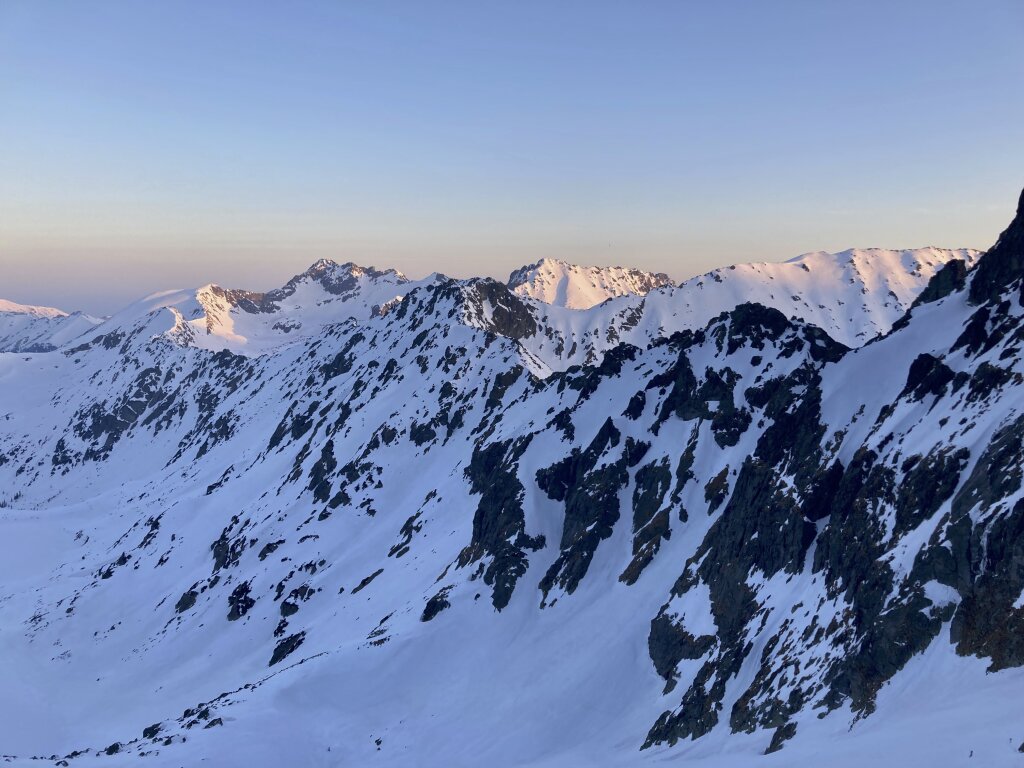 Sjezd od Ťažkého plesa je ,,ťažký, :) kličkuji lesem do Bielovodské doliny. Míjím horolezecké tábořiště i chatku Tanapu. Pokračuji ve stoupání směr sedlo nad Zeleným. Minulý týden jsem šel ve svahu po pravé straně, teď, ale vidím, že se na ,,hřišti" radikálně změnily podmínky. Kde byl 7 dní zpět sníh je zeleno. Všude jen Kosovka... Snad to pustí žlabem...
U potoka dobírám vodu a dopíjím se! 1,5 L tekutin od Terycho chaty je tak na hraně :)
Krátká pauza, horalka do břicha a mažu žlabem než sníh změkne v poledním slunci.
Ve spodní části již přes sněhovou skořápku tryská vodopád... Našlapuji s lehkostí pyrotechnika...
Where is my mind? Way out in the water See it swimmin'
Nad spodním prahem jsou podmínky velmi ok, slyším sice podtíkat vodu, ale moc si s tím nelámu hlavu. Mírná apatie z únavy hraje do karet.
Ze sedla do Zelené Javorovej doliny, není tak dobrý sjezd jako minulý týden. Pořád prašan, ale s jemnou krustou"
Dole u potoka dobírám vodu, na 10 min házím nohy na horu. Nejdelší pauza dne.
Pokračuji směr Čierná Javorová. Je tady stopa a nejen skialpová... Medvědi už evidentně nespí. Hlava je po 12 hodinách celkem salát, a tak nevím jak bych medvědovi vysvětloval, že jdu na rekord ať jde z cesty...
Hang jdu zleva, po pravé straně jdou 3 skialpinisté, Supr nad hangem mne bude čekat čerstvá stopa. To by si však nesměli dát pauzu. Sníh v odpoledním slunci je kaše. Horní část výstupu do sedla, bez sněhu.
Sjezd z Čierného sedla ke slaňáku na Brnčálou je asi fájn, po 5000+ vm, to nedokáži patřičně ocenit. Slaňák trefuji hladce, dám mačky jdu ke štandu. Poprvé vytahuji lano (rozuměj 50m 5mm prusíku), neskutečně se motá, ale nakonec se domluvíme... Slaňuji přes půlloďák do žlabu. Voda hučí ze všech stran. Chci odtud co nejrychleji pryč ! Stahuji repku, ale ta se v závěru kousne. 10 min naivně zkouším různé pohyby. Vzdávám to, lano tam nechám. Jednou to přijít muselo ...
Sjíždím dolů k Brnčále a traverzuji pod Flašku. Začíná se zvedat vítr, ve srovnání s předpovědí, kdy už mělo být zataženo, pořád pohoda.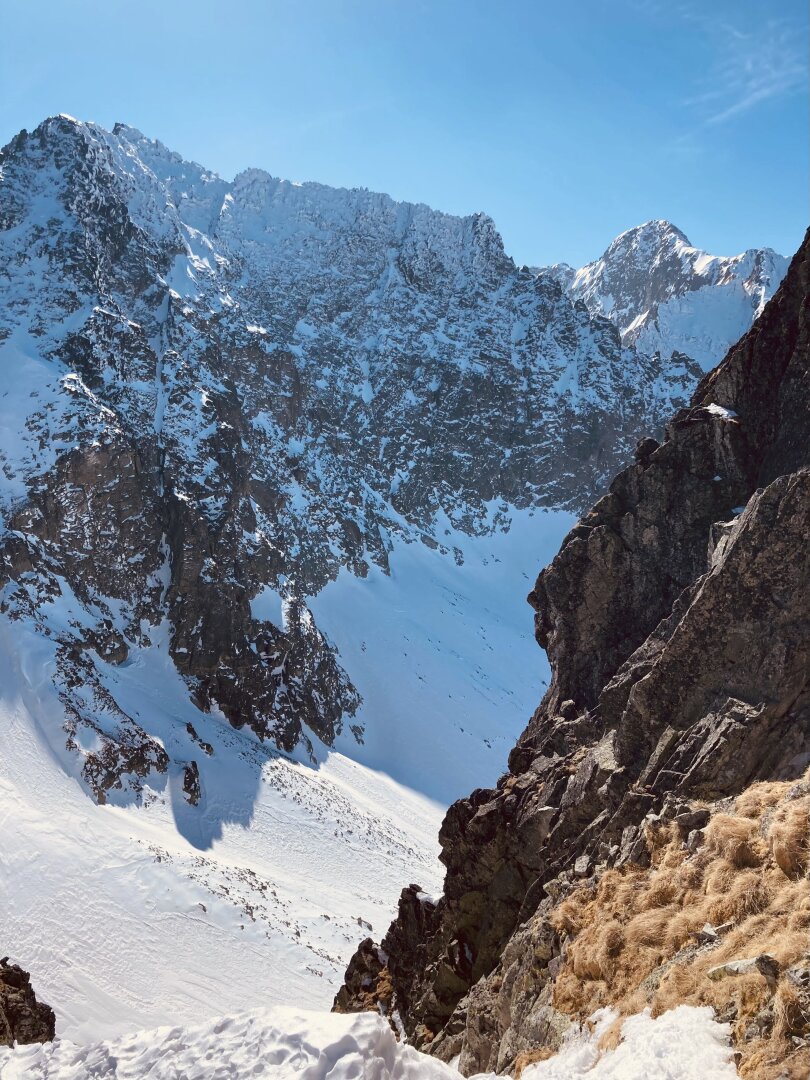 Pro výstup do Bachledovej štrbiny jsem si nechával dostatek sil, jednak po zkušenostech z minulého týdne, bojoval jsem tu po kolena v prašanu a druhak jsem nepočítal, že tady budu takto brzy a myslel jsem, že mne při výstupu dostihne změna počasí. Materiálně i psychicky jsem byl na tuto možnost připraven. Na vichřici, sněžení, tmu a sníh po kolena
Místo toho jasná obloha, do tmy daleko a když jsem v Medené kotlině uviděl stopu, jaj to bylo radosti !!! Šel jsem plný! Nebylo na co šetřit!! Stehna hoří, lýtka se zapalují.. YEEES !!!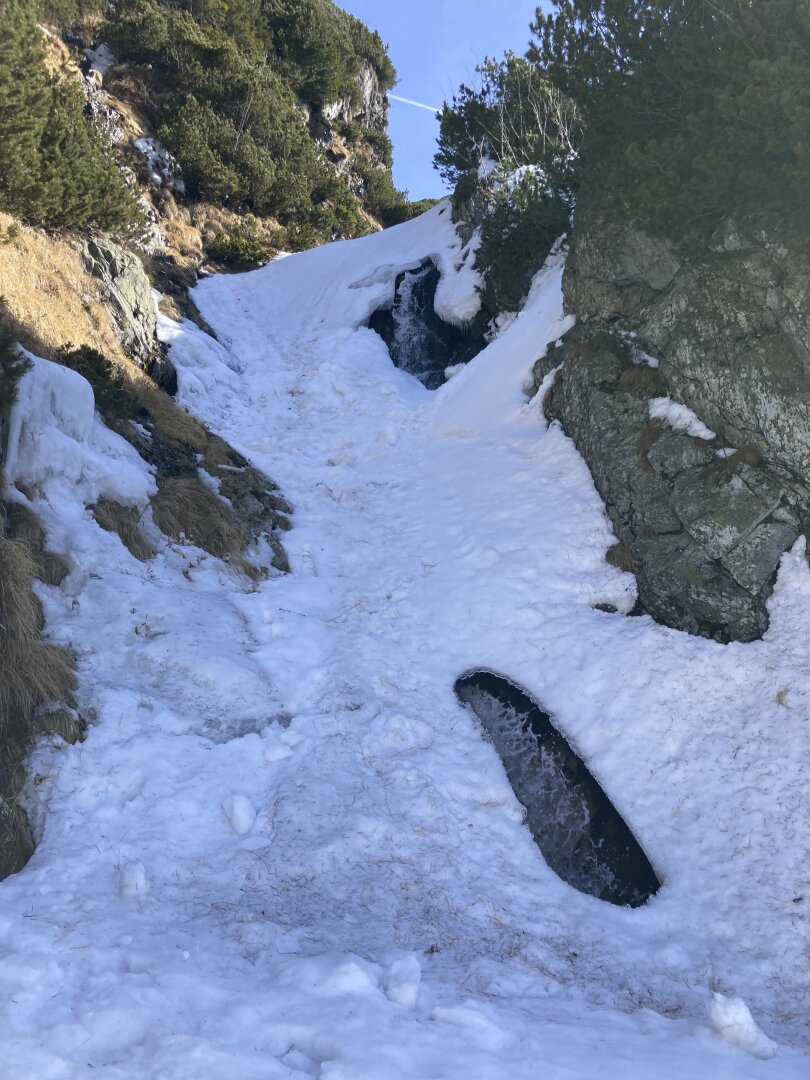 V závěrečných 100 metrech jsou 3 krátké ledové prahy. Vítr lehce sílí, cloumá unaveným tělem. Nedám se. Kolem 15:00 jsem v Bachledovej štrbině... Už žádné stoupání... ,,jen sjezd na Terynku"
Při sjezdu uvolňuji malé sněhové splazy, zastavím, nechám je poodjet, stehna pálí!!!
Vyjíždím ze žlabu. Traverzuji k chatě. Posledních 50 metrů. Dobíhám k Chatě... Vypínám záznam na hodinkách. Čas 16:25.. !!!! Sám tomu nemohu uvěřit. Sen se splnil. Okruh se uzavřel. Všechno je stejné jako když jsem startoval, ale jinak.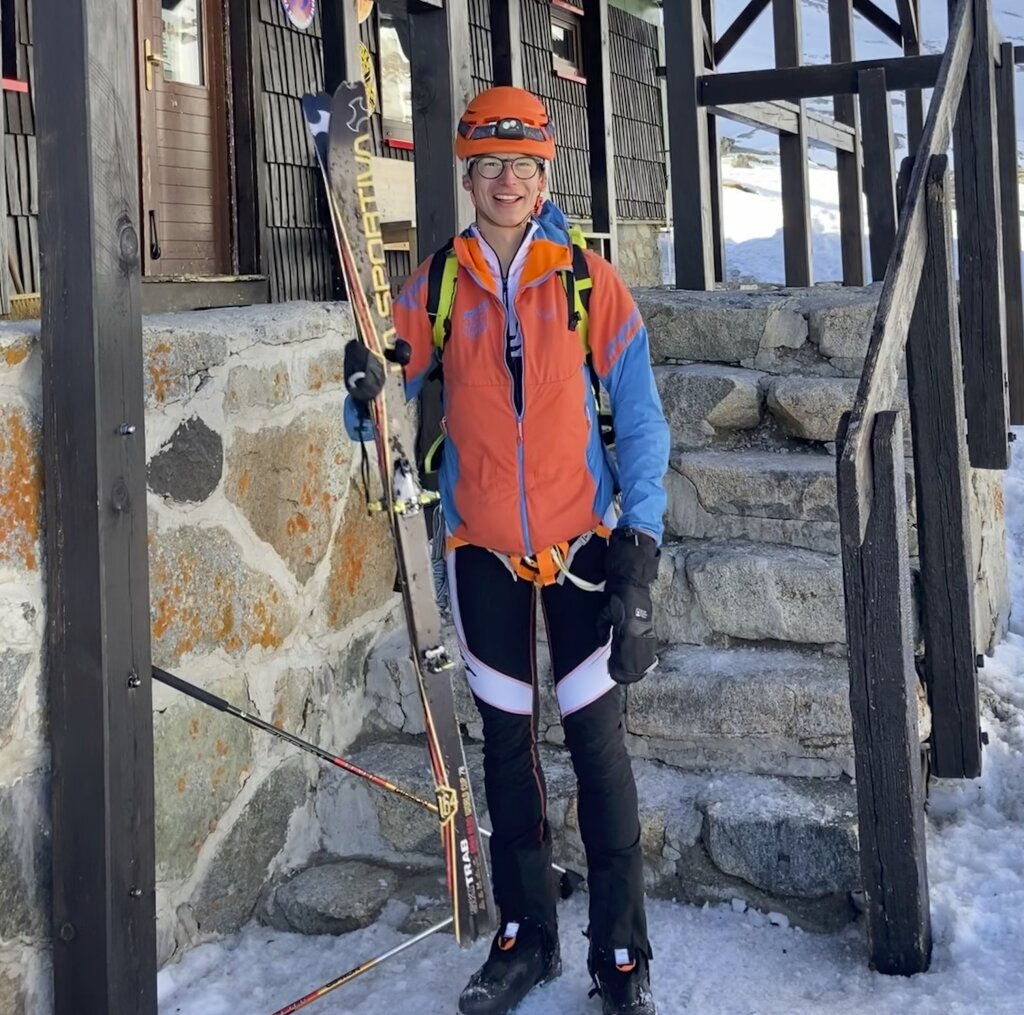 Hory jsou někde na polovině cesty do ráje...
Věnováno Simonovi Kolajovi a Václavu Tichavskému. Za to, že jste na mě se shora dávali pozor...
Poděkování:
Rodině a kamarádům za věčnou podporu !
Elkovi, Martinovi, Majovi i Štefkovi z Teryho chaty za skvělé zázemí pro přípravu i za fantastické přivítání. Viktorovi Kořízkovi za to, co mne v horách naučil.
Tomášovi v Sunsportu a Dynafitu za podporu.
Material:
Lyže - Gara Aero LS 70, lyžáky - Alien 1.0, vázání Dynafit Low Tech Race 115 Auto, hole nějaký Gipron - nekarbonové = menší riziko zlomeni, pásy - Pomoca race 100mm, 2 páry, pípák, hodinky Suunto 9, čelovka - Petzl - Actik core.
Kombinéza Dynafit, cyklistický nátělník, mikina, šátek buff 2x, bunda - Dynafit, šustky - Dynafit, tenké palčáky.
Batoh - Dynafit - Expedition 30 ( skvělý batoh, ideální velikost, málo zipů = málo problémů), tenká péřovka nějaký Mac in sac nevím , tlustá péřovka Koteka, větrovka - Dynafit, Bunda - Gore-tex, pálčáky - Sir Joseph, rukavice Decathlon, nůž - Viktorinox, lano 5mm smyčka, sedák - Petzl - Altitude, cepíny - 2x Petzl - Gully, mačky - Petzl - Dart ( klasické lezecké, mám v nich jistotu), helma - Petzl - Sirocco, 2x ploché smyce 60 cm, 1x plochá smyce 120 cm. 3 karambiny 1x HMS, 5 m prusík.
Strava: ( co lídl dal) pistáciové tyčinky 5x, 2x směs oříšku se sušeným ovocem, 2x horalka 2x perník :) 1x sýr kostka, 2x dětská přesnídávka, 1,5l PET multivitamín. :)
Oblečení do rezervy bylo hodně, ale kalkuloval jsem s večerní změnou počasí.
Produkty v článku